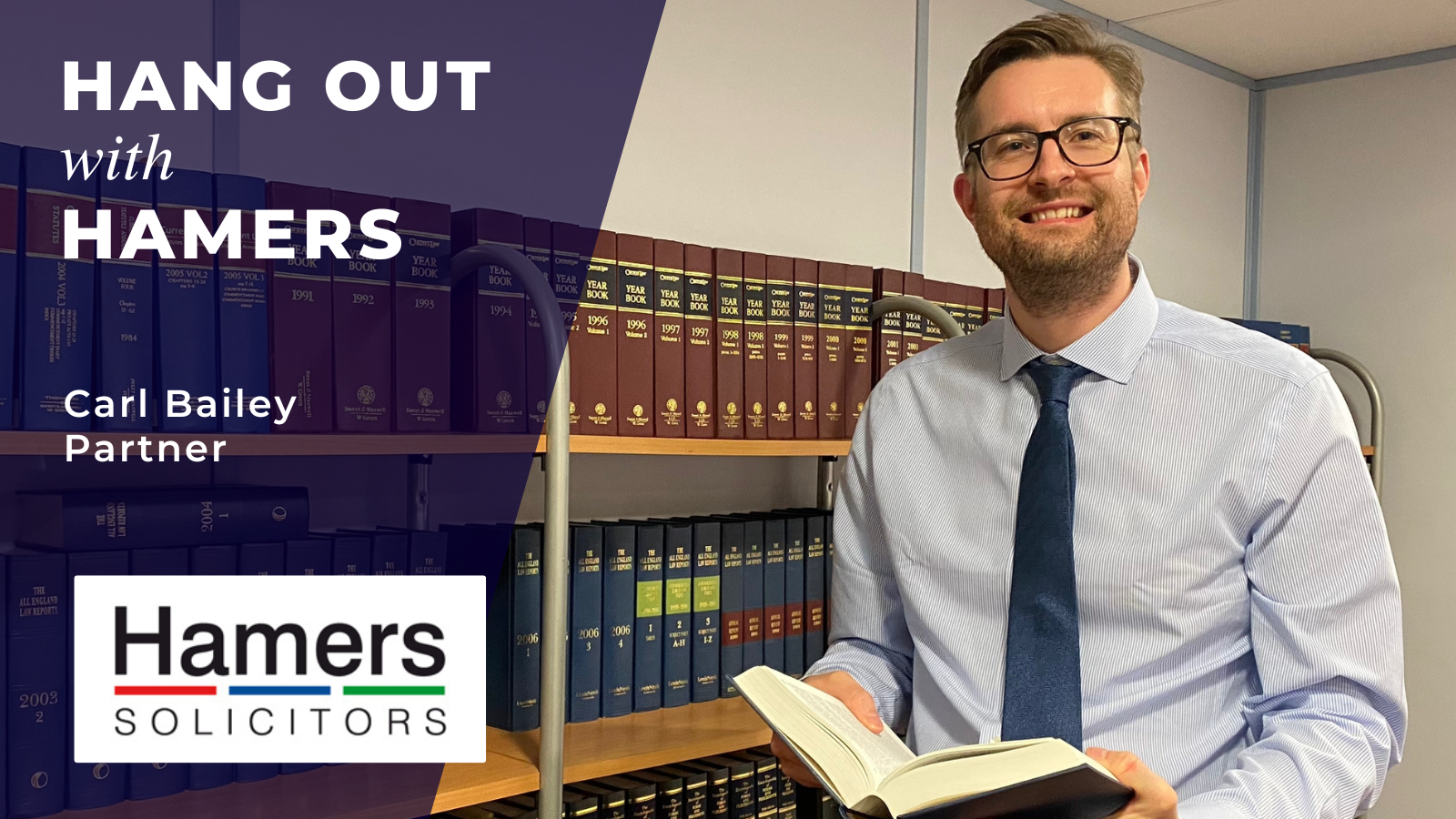 At Hamers, we're committed to providing friendly, local law. It's what we do best.
We strip away all the legal jargon and focus on providing you with a personal, hassle-free experience.
To do that, we've built a professional, friendly team of experts who are on hand to make sure our clients receive the best service possible.
To help you get to know them better, we launched our 'Hang out with Hamers' series.
We're introducing you to members of the Hamers team, from all the departments of the firm.
Today we catch up with Carl Bailey, Partner and Head of our Conveyancing Department at Hamers.
Q) Tell us about your role at Hamers – what does a typical day look like?
I lead our property team at Hamers, which covers both residential conveyancing and commercial property.
My main responsibility is handling client transactions, dealing with estate agents and brokers and getting people moving on time and as smoothly as possible.
As you can imagine, my role also includes moving a lot of money around, which brings its own pressure with it.
As Head of Department, I make sure any staff queries or issues are dealt with quickly, to keep things ticking over.
Q) What do you enjoy most about your job?
It's got to be the feeling of helping someone move into their dream home, or complete their commercial property deal.
Moving house is a stressful and busy time for people, so hearing we've helped make that process easier is so rewarding. It's why we all do what we do.
Q) Tell me one thing people wouldn't expect about working for a law firm.
I think people have a perception that solicitors finish work at 12pm on a Friday and go to the pub for the afternoon. Maybe that was the case a long time ago, but today we work incredibly hard and we work all day!
Q) What do you like to do when you're not at work?
My biggest love outside of work is Leicester City.
I was born in Leicester, and despite moving over to East Yorkshire, I've been a season ticket holder since 1990.
I feel incredibly fortunate to have been a fan during the most successful period of the club's history. Seeing Leicester win the Premier League is something no fan will ever forget, and future generations probably won't even believe!
Q) What's one thing your colleagues wouldn't know about you?
This one surprises a lot of people considering I work in law.
When I was at school doing my GCSEs, I got called in by the Head of Sixth Form who asked me whether I genuinely thought I was capable of achieving three Cs. That's what I needed to get into the sixth-form at school.
There's definitely a stigma around law school, but I did not come from that academic background at all. I'd say to people if you haven't got the best grades in the world, don't worry, you can still achieve a great deal.
Quick-fire Questions
Q) You can invite any three people – dead or alive – to dinner. Who's at the table?
My three are all football themed. I'd invite Claudio Ranieri, who led Leicester City to the Premier League title in 2016, Harry Redknapp and Jamie Vardy, who seems like he'd be up for a party!
Q) Favourite TV show?
I'm torn between two – if you want an older show, I'd say 24. For a more recent series, it would be Billions.
If I was forced to pick one, I'd go with 24.
Q) What's the best place you've been on holiday?
I spent my honeymoon in Mauritius, which is by far the best place I've ever been. An easy pick!
Q) Early bird or night owl?
I tend to go to bed quite late on a weekend, so I'll say night owl. I do a bit of gaming with people online, which is often after everyone else has gone to sleep!
Q) If you could win an Olympic gold medal in any sport, what would it be?
Definitely the 100m sprint. Being able to say you're the fastest person on the planet would be amazing, wouldn't it?
Date
26 January, 2023
Author
Phil Winter
Share
If you would like to talk to a member of the department
Keep up to date
Sign up to receive email updates and regular legal news from Hamers.