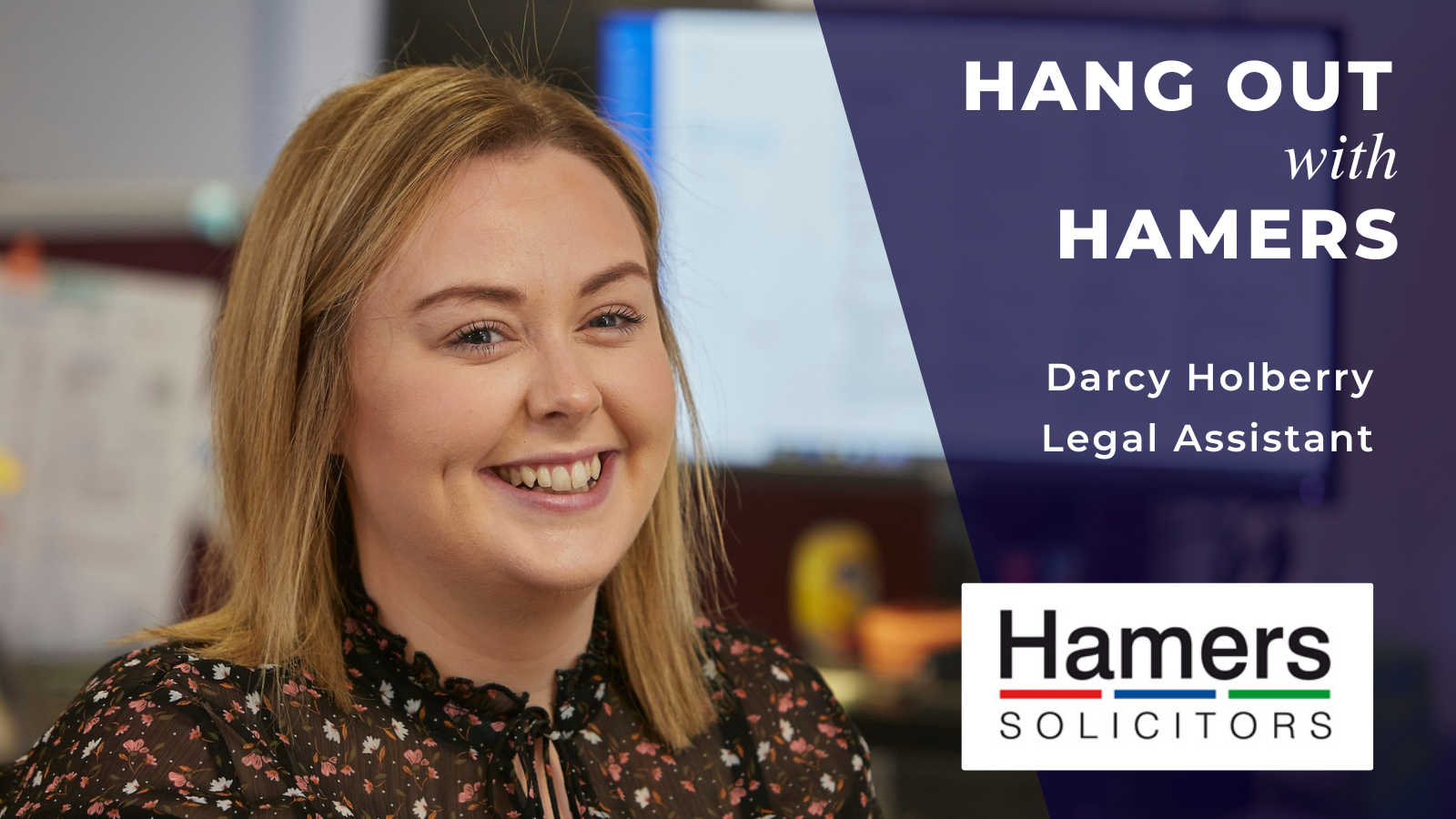 At Hamers, we're committed to providing friendly, local law. It's what we do best.
We strip away all the legal jargon and focus on providing you with a personal, hassle-free experience.
To do that, we've built a professional, friendly team of experts who are on hand to make sure our clients receive the best service possible.
To help you get to know them better, we launched our "Hang out with Hamers" series.
We're introducing you to members of the Hamers team, from all the departments of the firm.
In this edition we chatted with Darcy Holberry, a Legal Assistant at Hamers.
Q) Tell us about your role at Hamers – what does a typical day look like?
I'm part of the Wealth Management department at Hamers. As a Legal Assistant, it's my job to make sure everything runs smoothly within the team, and that clients receive the best service and experience possible.
Day to day responsibilities include handling phone calls and email enquiries, keeping colleagues up to date on what's coming in and keeping the office ticking over.
No two days are the same, there's so much variety and you never know what's coming around the next corner.
Q) What do you enjoy most about your job?
Being able to help people through a challenging, emotional time in their life is the most rewarding part of the job. It's really satisfying to know you've helped someone, and they leave having received an excellent service.
I'm proud to be part of the Hamers family – we work well together as a team and there's a real sense of unity.
I'd also like to give a mention to my colleague Linda's pavlova, which is definitely a highlight when one appears in the office!
Q) Tell me one thing people wouldn't expect about working for a law firm.
We've got an office dog! Jack has an important role at Hamers as our Chief Morale Officer, and is a constant source of fun and entertainment.
I've been at Hamers for five years now, and it's a much less stressful environment than many people would expect. People think law firms must be quite corporate, stuffy places to work, but it's not the case at Hamers at all.
Q) What do you like to do when you're not at work?
I've got two young children who are aged eight and one, so they take up the bulk of my time outside of work.
My eldest plays football, so I take him to training, and outside of that it's things like swimming lessons and ferrying them around everywhere they need to go!
We live in Barton, and like to get out for days out and walks as a family.
Q) What's one thing your colleagues wouldn't know about you?
I'm one of the few people who is allowed to walk a sheep over London Bridge.
I'm a member of the Worshipful Company of Spectacle Makers from a previous job, which is the oldest optical body in the world.
Being a member means you're allowed to take part in the Sheep Drive over London Bridge, which only a small number of people are able to do.
I've never done it, but it's something no one else at Hamers could do!
Quick-fire Questions
Q) You can invite any three people – dead or alive – to dinner. Who's at the table?
I'd invite David Attenborough, because he's a national treasure, Robin Williams as I loved all of his films, and my grandma Evelyn.
Q) Favourite TV show?
I love any crime drama, but if I had to pick one, I'd go with How to Get Away with Murder. If you haven't seen it, I'd definitely recommend watching it!
Q) What's the best place you've been on holiday?
Ibiza! I love it there, and have some great memories of the place.
Q) Early bird or night owl?
I'm probably a night owl now, as it's only when the kids have gone to bed that I can get on with other things!
Q) If you could win an Olympic gold medal in any sport, what would it be?
I think being a champion diver would be good, but I'm terrified of heights, so I don't think it would pan out very well for me!
Date
12 April, 2023
Author
Phil Winter
Share
If you would like to talk to a member of the department
Keep up to date
Sign up to receive email updates and regular legal news from Hamers.