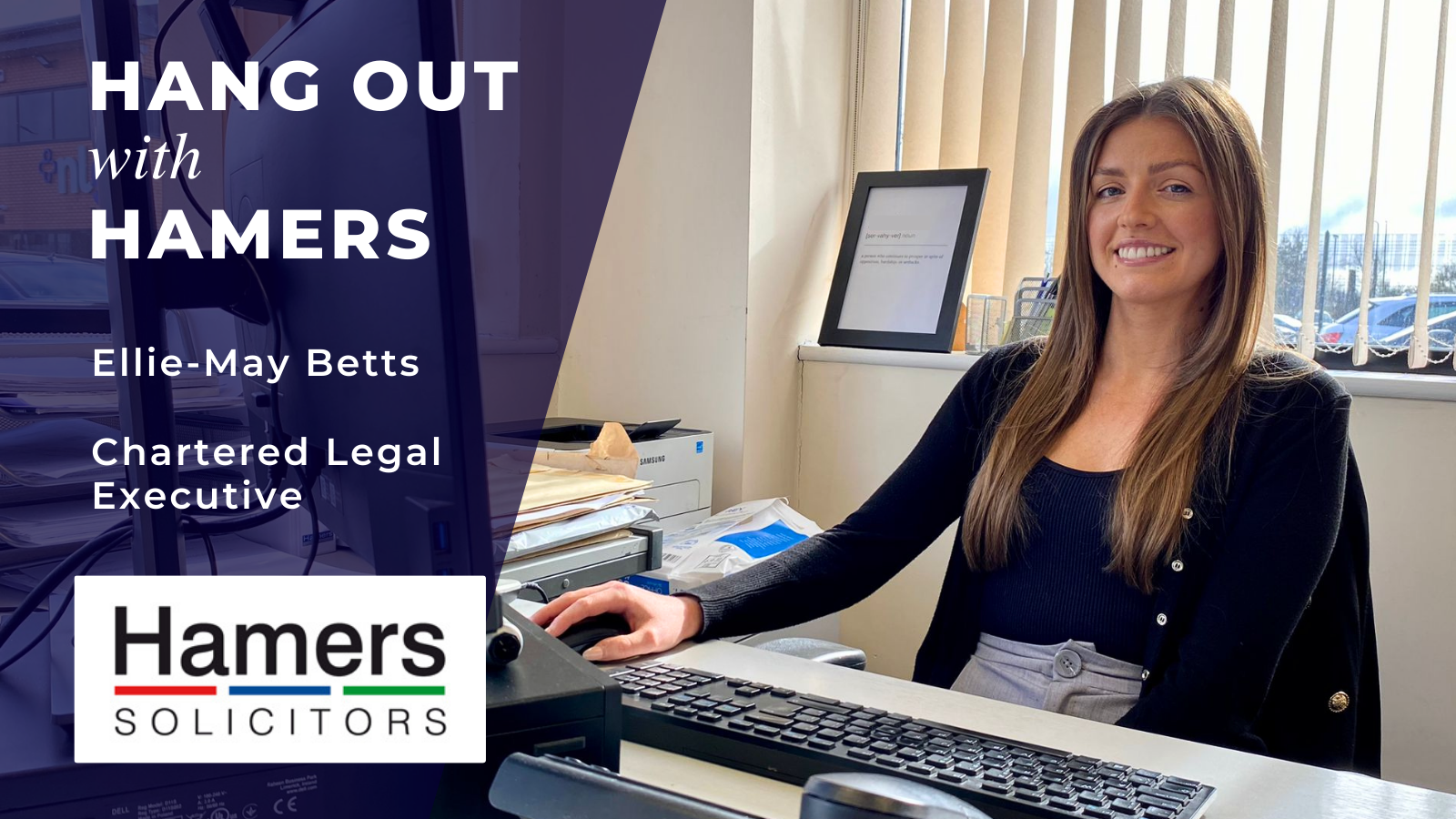 At Hamers, we're committed to providing friendly, local law. It's what we do best.
We strip away all the legal jargon and focus on providing you with a personal, hassle-free experience.
To do that, we've built a professional, friendly team of experts who are on hand to make sure our clients receive the best service possible.
To help you get to know them better, we launched our "Hang out with Hamers" series.
We're introducing you members of the Hamers team, from all the departments of the firm.
Today we catch up with Ellie-May Betts, Chartered Legal Executive at Hamers.
Q) Tell us about your role at Hamers – what does a typical day look like?
I work in the wills and probate team at Hamers, so my main responsibilities include handling wills, lasting powers of attorney and estates.
It's fair to say no two days are the same. I write wills for a variety of different clients and manage the distribution of estates from start to finish.
Q) What do you enjoy most about your job?
The variety is the best thing about the job. When it comes to estates, I deal with the large and the small, the weird and the wonderful.
Every time you come into the office you have no idea what you're going to face. I enjoy that buzz, and dealing with all different types of situations.
I know it sounds cliché, but I also enjoy helping people during a difficult time in their lives. Getting positive feedback from a happy client is so rewarding.
Q) Tell me one thing people wouldn't expect about working for a law firm.
It's nowhere near as intimidating and corporate as you might expect.
We try to create an environment which is as friendly and welcoming as it can be. I've been at Hamers for two and a half years, and I've always felt valued and respected here.
We've got a brilliant and caring team, and I think that's clear to anyone who comes in as a client.
Q) What do you like to do when you're not at work?
I love to travel, that's definitely my biggest passion outside of work. I enjoy visiting new places and exploring.
Outside of that, I love being social and getting out and about with friends and family, and I have two French Bulldogs called Huey and Marble whose mischievous antics keep me busy.
Q) What's one thing your colleagues wouldn't know about you?
People wouldn't know this, but I'm a big Formula One fan. I got into it through friends, started watching it a few years ago, and since then I've been hooked!
I'm team Lewis Hamilton all the way and I'd love to see him win his eighth championship and break the record.
Quick-fire Questions
Q) You can invite any three people – dead or alive – to dinner. Who's at the table?
I'd invite Lewis Hamilton, for obvious reasons, Kevin Hart because I find him hilarious, and David Attenborough, because I love animals and I think he'd have so many amazing stories to tell.
Q) Favourite TV show?
This is a difficult one, but I'll go with Game of Thrones. I loved the series, although I'm sure lots of people would agree with me that the ending was a disappointment!
Q) What's the best place you've been on holiday?
Definitely Aruba, which is an island in the Caribbean Sea. I went there back in 2017, and it was just the most amazing place.
We visited Flamingo Beach, which is on a little private island just off Aruba. If you haven't heard of it, give it a Google!
Q) Early bird or night owl?
I'm an early bird now. It's definitely changed as I've got older!
These days I do my gym and workout sessions before I go to work. I wouldn't have thought about doing anything like that when I was younger.
Q) If you could win an Olympic gold medal in any sport, what would it be?
Something equestrian. I did horse riding when I was younger, and would like to get back into it at some point.
Date
31 March, 2023
Author
Phil Winter
Share
If you would like to talk to a member of the department
Keep up to date
Sign up to receive email updates and regular legal news from Hamers.