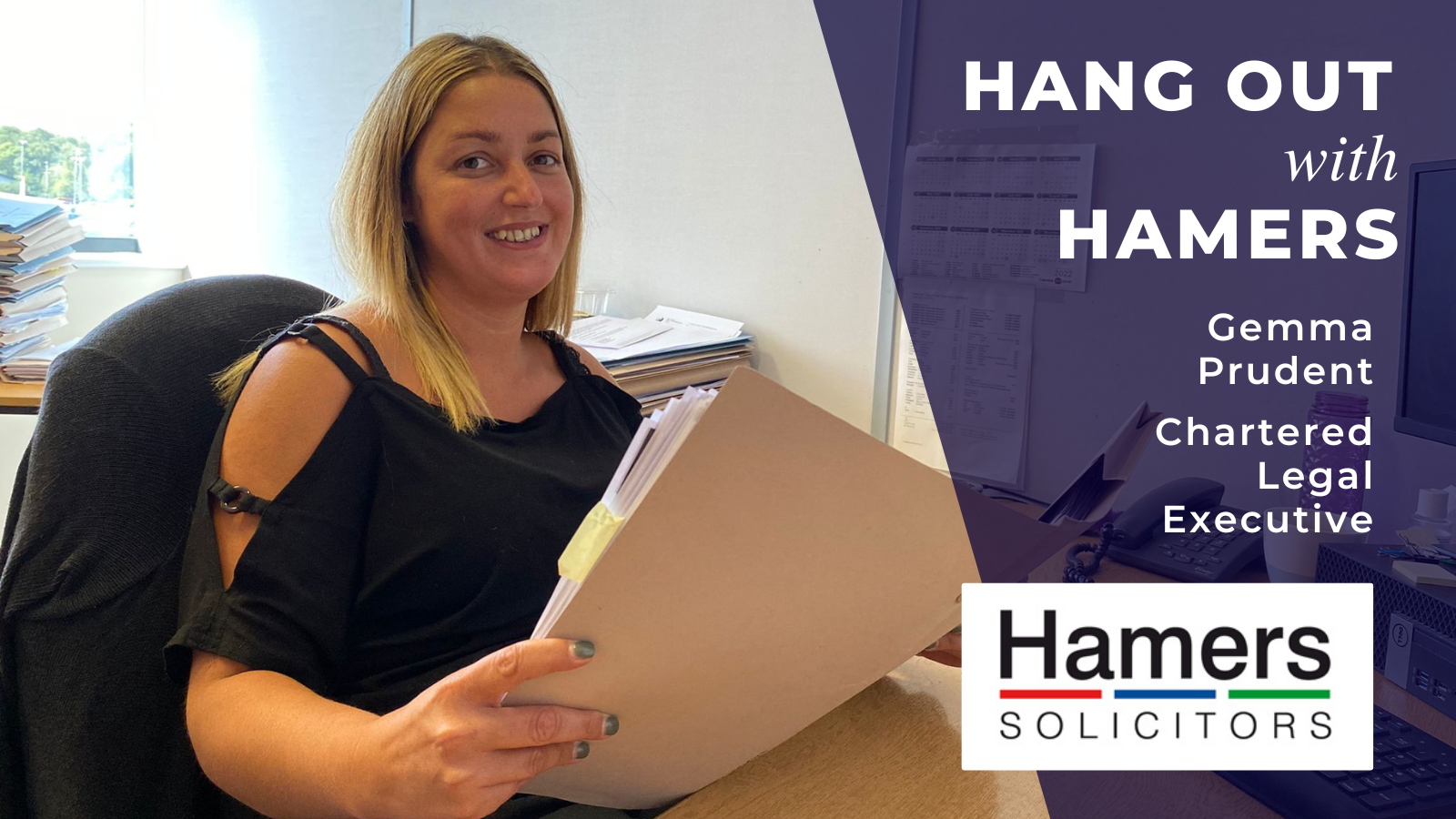 At Hamers, we're committed to providing friendly, local law. It's what we do best.
We strip away all the legal jargon and focus on providing you with a personal, hassle-free experience.
To do that, we've built a professional, friendly team of experts who are on hand to make sure our clients receive the best service possible.
To help you get to know them better, we've launched a new series – "Hang out with Hamers".
We're introducing you to members of the Hamers team, from all the departments of the firm.
In this edition, we sit down with Gemma Prudent, Chartered Legal Executive at Hamers.
Q) Tell us about your role at Hamers – what does a typical day look like?
"My day-to-day role covers all aspects of the conveyancing process. It's my job to make sure the client is up to date with what stage everything is at with their move, and that everything runs as smoothly as possible. In almost every move there are little barriers to get past, and it's my job to make sure issues are resolved quickly and don't slow down the chain.
"A big part of the job is responding to questions and queries from clients, and anything relating to the sale and purchase of the property."
Q) What do you enjoy most about your job?
"I often have the privilege of walking Jack – our lovely office companion – at lunch time. I've got a nice little loop that I do with him, and it's a great way to clear your head and start the afternoon fresh.
"I've been at Hamers for about 11 years now, and I think it's important to take a moment to remember how far I've come. I initially worked in the industrial diseases team at Hamers, and then more recently moved into conveyancing."
Q) Tell me one thing people wouldn't expect about working for a law firm.
"That we don't all wear suits and ties every day! People still imagine law firms to be incredibly formal and corporate places, but at Hamers it isn't like that at all.
"We obviously have members of the team who spend time in court and tribunals, so they dress smartly for those. But if we're in the office and dealing with day-to-day tasks, it can be much more relaxed."
Q) What do you like to do when you're not at work?
"I've got two young children, so a lot of my focus and time is with them. My eldest is 13 and the other is eight. They've both just started new school years, so that's been a big change for them and an exciting new chapter.
"They're both into their martial arts, so that takes up a chunk of most weekends, and we also enjoy trips to the beach and getting outdoors walking.
"Aside from that, I enjoy reading and getting out for runs."
Q) What's one thing your colleagues wouldn't know about you?
"When I was about two years old, I went to an FA Cup match Coventry were playing in with my dad, and got caught in a crush in the crowd – I've lived with claustrophobia ever since.
"Coventry City went on to win the FA Cup that year – my dad is a big Coventry fan so that fact sticks in my mind for obvious reasons!"
Quick-fire Questions
Q) You can invite any three people – dead or alive – to dinner. Who's at the table?
"George R. R. Martin, so I could ask him to finish the Game of Thrones books, and then Ant & Dec would be the other two. They'd be really good fun to have at the dinner table."
Q) Favourite TV show?
"At the moment I would say The Wheel of Time – but the books are definitely better than the TV series!"
Q) What's the best place you've been on holiday?
"I took the kids to Lapland in 2018, and we absolutely loved it. It's a magical place, and if you've got children I would absolutely recommend going. It's an experience they will never forget."
Q) Early bird or night owl?
"Is somewhere mid-afternoon an option!? I'd have to say early bird, because of the kids, I don't get many lie-ins these days!"
Q) If you could win an Olympic gold medal in any sport, what would it be?
"I think running – let's say the 100m sprint. Being the fastest woman on the planet would be pretty cool wouldn't it?"
Date
09 November, 2022
Author
Phil Winter
Share
If you would like to talk to a member of the department
Keep up to date
Sign up to receive email updates and regular legal news from Hamers.