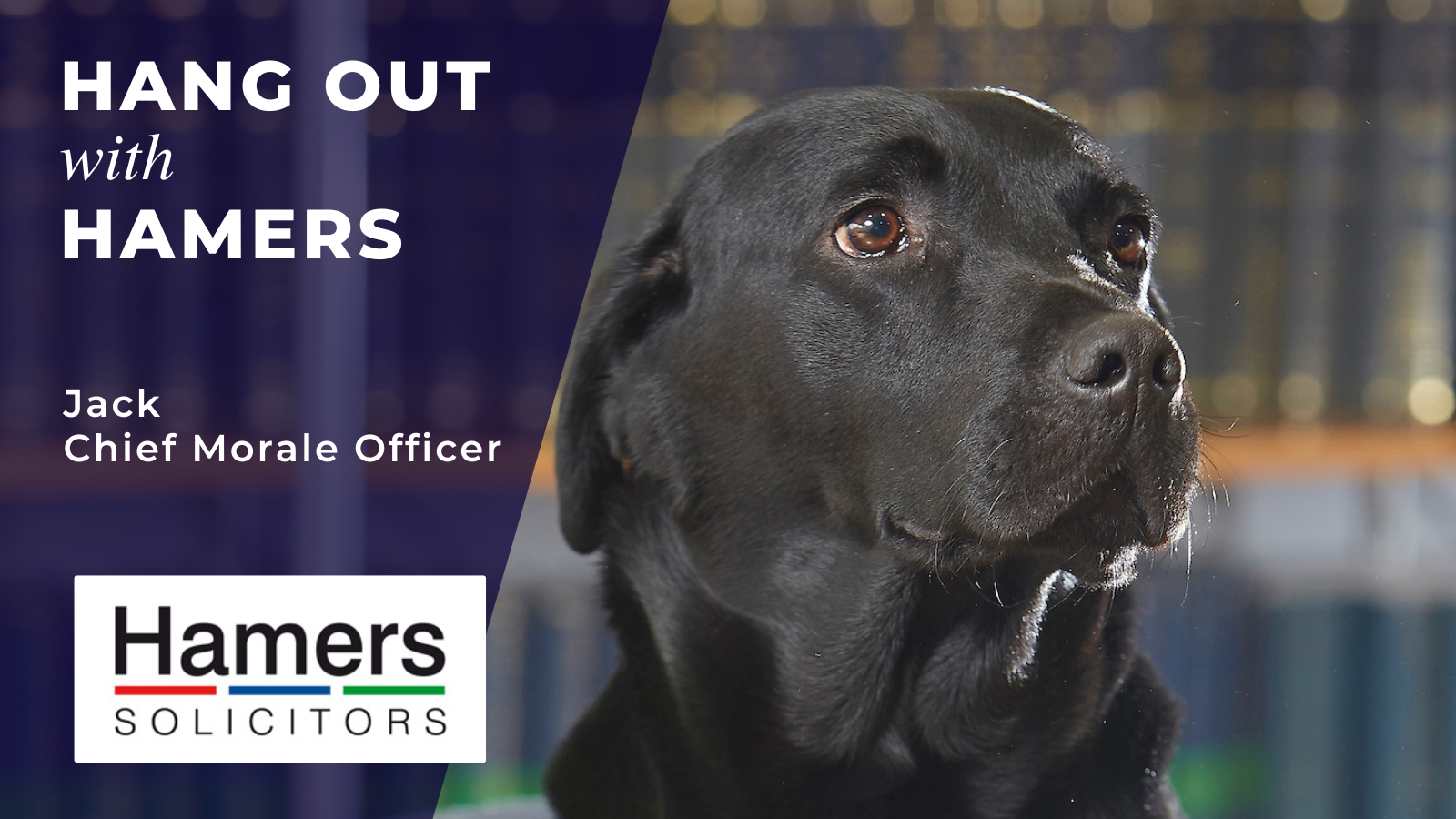 At Hamers, we're committed to providing friendly, local law. It's what we do best.
We strip away all the legal jargon and focus on providing you with a personal, hassle-free experience.
To do that, we've built a professional, friendly team of experts who are on hand to make sure our clients receive the best service possible.
To help you get to know them better, we launched our "Hang out with Hamers" series.
We're introducing you to members of the Hamers team, from all the departments of the firm.
Today we chat to Jack, Chief Morale Officer at Hamers.
Q) Tell us about your role at Hamers – what does a typical day look like?
I get up, eat some breakfast and go for a nice morning walk. I then head into the office and say hello to everyone.
After that, it's time for my morning nap before a lunch time walk at 12pm. Quite often Gemma takes me. It's definitely the highlight of her day!
The rest of the day is fully occupied with sleeping and tummy tickles, and before you know it, it's home time! At home it's more food, an evening walk and lots more sleep.
Q) What do you enjoy most about your job?
Getting lots of cuddles from my lovely colleagues, long tummy rubs and going for my walk at 12pm precisely every day.
As Chief Morale Officer, I've also got an important role to play in keeping energy levels high and making sure there's a buzz around the office.
I'm very lucky to have some loving colleagues who give me lots of attention and make me feel very special.
Q) Tell me one thing people wouldn't expect about working for a law firm.
I don't know whether this is the case at other law firms, but I can spend at least half of the working day asleep and no one bats an eyelid!
Q) What do you like to do when you're not at work?
I go for long walks, eat lots of tasty food and make sure I get plenty of sleep.
Q) What's one thing your colleagues wouldn't know about you?
Everyone knows me as Jack, but my real name is Cynhinfa Orlando and I'm Welsh!
Quick-fire Questions
Q) You can invite any three people – dead or alive – to dinner. Who's at the table?
I'd invite my favourite rapper, Snoop Dog, my number one celebrity Scooby Doo and Lassie. Between them, not a mystery would go unsolved!
I also couldn't leave out my favourite toy, Pheasie the pheasant.
Q) Favourite TV show?
I don't have much time for watching TV – I spend far too much time asleep for that!
Q) What's the best place you've been on holiday?
I love Northumberland and North Norfolk. I can go swimming in the sea there, and enjoy walks on the beach.
Q) Early bird or night owl?
Neither – as I think I've said before, I'd rather be asleep!
Q) If you could win an Olympic gold medal in any sport, what would it be?
Is sleeping an Olympic sport!?
Date
05 January, 2023
Author
Phil Winter
Share
If you would like to talk to a member of the department
Keep up to date
Sign up to receive email updates and regular legal news from Hamers.