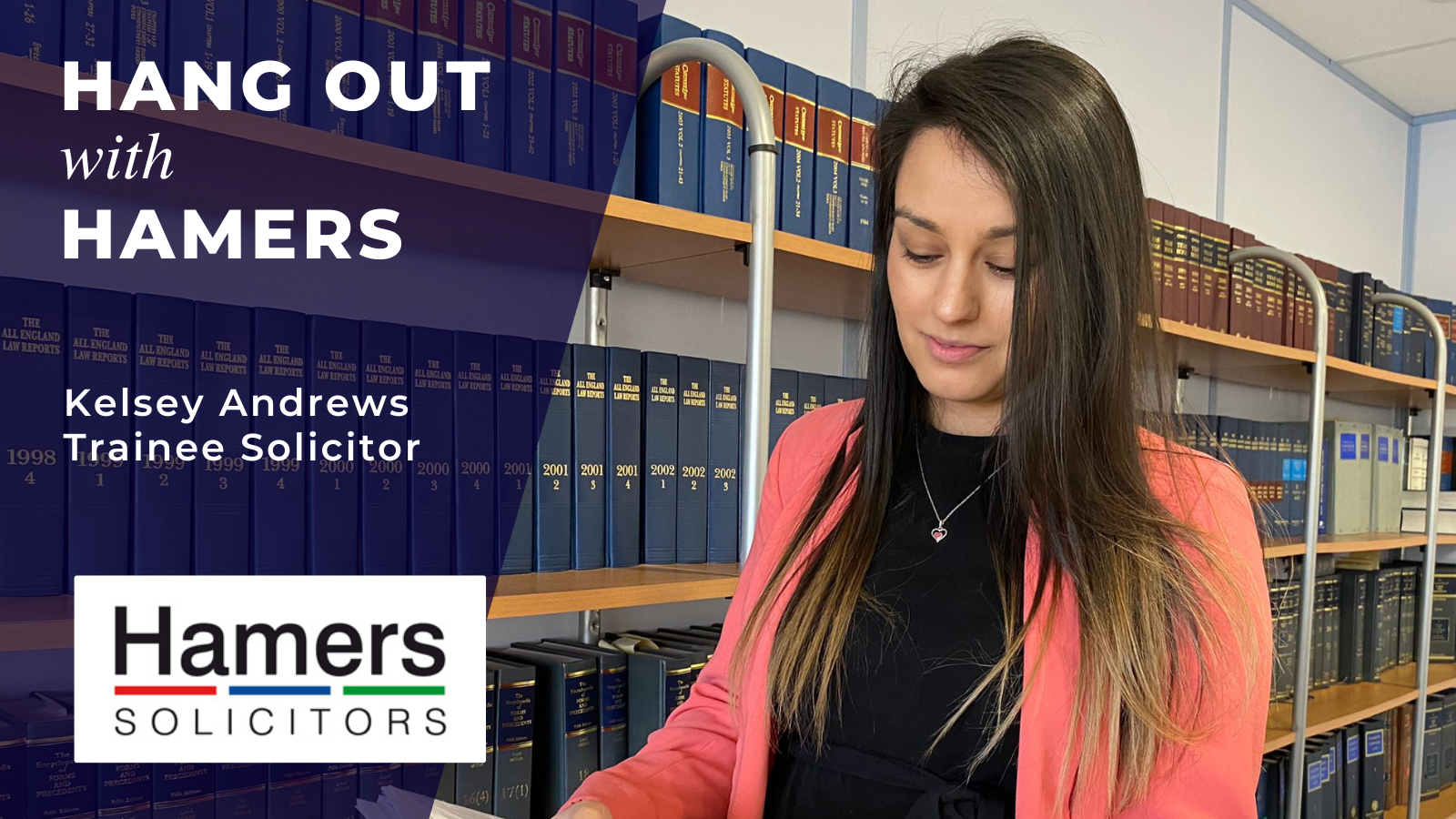 At Hamers, we're committed to providing friendly, local law. It's what we do best.
We strip away all the legal jargon and focus on providing you with a personal, hassle-free experience.
To do that, we've built a professional, friendly team of experts who are on hand to make sure our clients receive the best service possible.
To help you get to know them better, we've launched our "Hang out with Hamers" series.
We're introducing you to members of the Hamers team, from all departments of the firm.
Today we catch up with Kelsey Andrews, Trainee Solicitor at Hamers.
Q) Tell us about your role at Hamers – what does a typical day look like?
I joined Hamers in September 2021, so it's coming up to 18 months now. I work mainly in the family department, but I've recently also started doing some work in employment law.
If I'm working in family law, a typical day includes dealing with financial settlements, divorce proceedings and child arrangements. For employment law, it's a wide variety dealing with all aspects covering the rights and responsibilities between employers and their employees.
In both areas of law, I'm dealing with clients who find themselves in a difficult situation, so helping them get to a more stable, better place is incredibly rewarding.
Q) What do you enjoy most about your job?
I'm guessing my answer is different to what most people will say!
I really enjoy drafting documents such as agreements, schedule of assets and liabilities and punchy letters!
I also enjoy looking through financial documents, collecting evidence and building the case. It helps me really understand the situations of the clients I'm working with.
There's always an initial meeting with the client, which is about getting to know each other, but until you start looking through all the paperwork and documents, it's hard to know exactly what you're dealing with.
Q) Tell me one thing people wouldn't expect about working for a law firm.
Before I joined Hamers, I was studying for my law degree in Manchester and worked for a firm in the housing disrepair team.
Hamers is a much more relaxed environment than I think a lot would expect. People watch Suits and other legal dramas and think it's all shouting and arguments.
In reality, it couldn't be further away from that!
Q) What do you like to do when you're not at work?
My passion outside of work is horses. I love riding, show jumping and doing cross country events.
It's something I wanted to do from a young age, but my parents would never let me! When I got a bit older, my grandparents took me and that's where it started. I would help clean the stables and worked around the yard to help pay for lessons until I was old enough to purchase my own.
I've done some jumping competitions over the years, and generally am an active person. I've always done sport, whether it's gymnastics, cheerleading or dance.
Q) What's one thing your colleagues wouldn't know about you?
When I was 17, I had to cancel my driving test and sailing trip because I had a bad fall from a horse and broke both my fibula and tibia.
I was jumping and went around a corner a bit too fast; the horse slipped and came down on top of me. Strangely, it didn't hurt at the time – it must have been the shock.
I was in a full-length leg pot for about six months, and then moved onto smaller pot for another three months. I also had to start at college with the pot on, which wasn't ideal!
Quick-fire Questions
Q) You can invite any three people – dead or alive – to dinner. Who's at the table?
I would invite my daughter Aurora, who was stillborn, the comedian Kevin Hart and Chris Hemsworth, because he's beautiful!
Q) Favourite TV show?
It's Heartland on Netflix. It's all about horses, so it's not surprising it's my favourite show. I've watched it so many times.
Q) What's the best place you've been on holiday?
Horses are an expensive hobby, so I can never afford to go on holiday!
With that said, we're hoping to go snowboarding next year. We've looked at the Alps, but I'd also absolutely love to do it in Iceland.
My dream holiday would be a safari on horseback.
Q) Early bird or night owl?
Definitely an early bird – it gets to 10pm now and I need to go to bed!
Q) If you could win an Olympic gold medal in any sport, what would it be?
Equestrian eventing – I love watching all of the equestrian events at the Olympics, and I've been to see Ben Atkinson who trains horses for films and TV, photo shoots and other things.
Date
09 March, 2023
Author
Phil Winter
Share
If you would like to talk to a member of the department
Keep up to date
Sign up to receive email updates and regular legal news from Hamers.