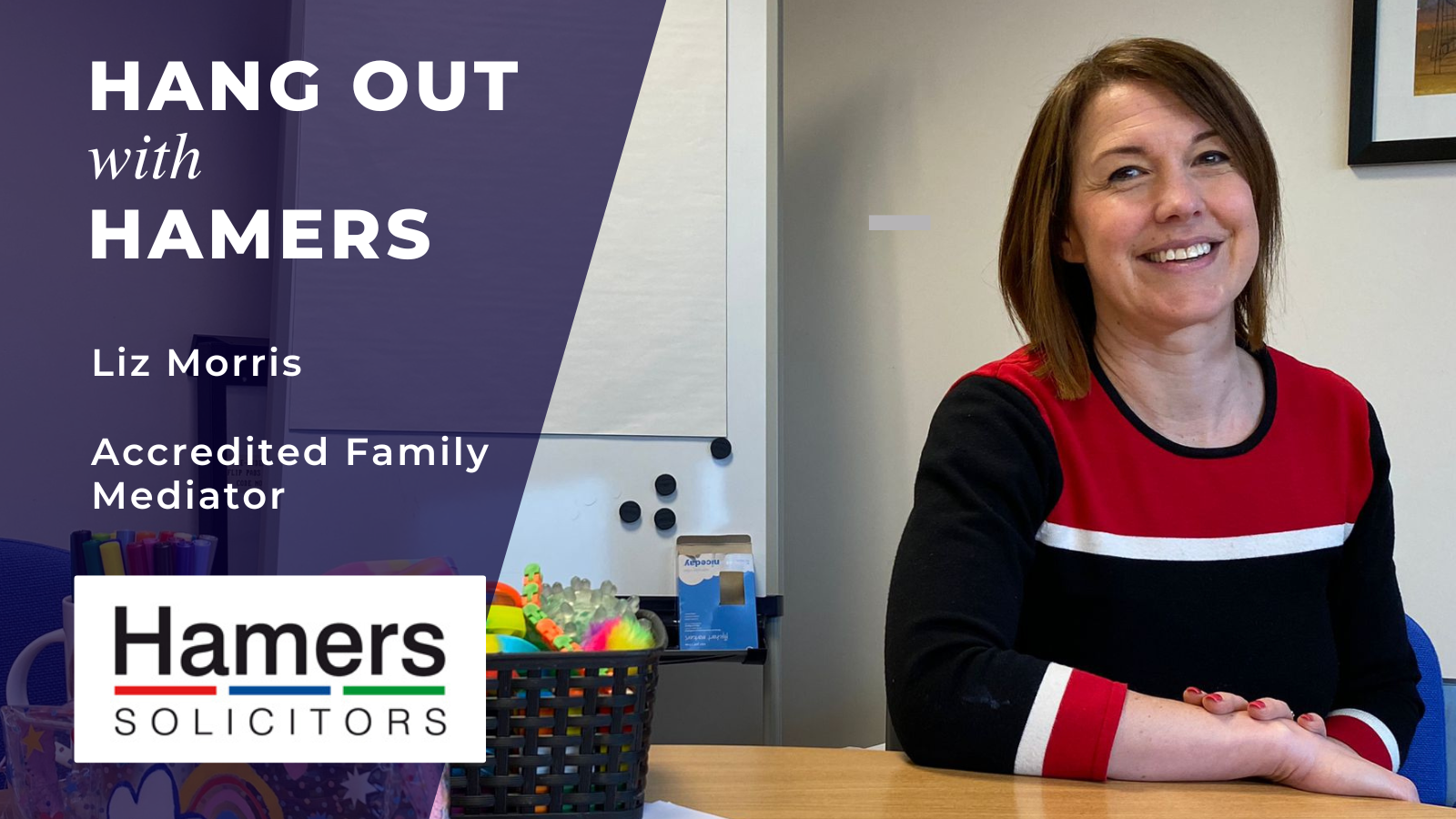 At Hamers, we're committed to providing friendly, local law. It's what we do best.
We strip away all the legal jargon and focus on providing you with a personal, hassle-free experience.
To do that, we've built a professional, friendly team of experts who are on hand to make sure our clients receive the best service possible.
To help you get to know them better, we launched our "Hang out with Hamers" series.
We're introducing you members of the Hamers team, from all the departments of the firm.
Today we catch up with Liz Morris, Family Lawyer and Accredited Family Mediator at Hamers.
Q) Tell us about your role at Hamers – what does a typical day look like?
Most of my work at Hamers nowadays is in family mediation. My appointments are typically with clients with issues around arrangements for their children and/or issues around divorce, separation and agreeing a financial settlement.
I deal with mediation referrals from other local solicitors, or directly from the clients themselves, but I'm also involved in Mediation for the Family Ltd, which is a consortium of solicitors and firms in Hull. It helps refer people to an accredited family mediator, to help them reach the best outcome for them.
I offer face-to-face and online appointments. It's dictated by the client and what works best for them. Every client is different!
Q) What do you enjoy most about your job?
I like the independence that my role brings me. I enjoy the fact I manage my own workload and clients, and that what I do is all about building relationships with people.
I love it when I feel I've played a part in solving a dispute through mediation. If I've managed to improve a co-parenting relationship through mediation, or helped a couple to identify a suitable financial settlement, then it's incredibly rewarding.
Q) Tell me one thing people wouldn't expect about working for a law firm.
I expect some people think working for a law firm must be quite cut-throat and cost-driven.
I can't speak for all law firms, but I can tell you Hamers is not like that at all. I've always felt fully supported in the work I do here – we care about each other and, more importantly, about our clients.
Oh, and did I mention we have an office dog!?
Q) What do you like to do when you're not at work?
I'm not afraid to say it – I'm a massive puzzle nerd. I love all types of puzzles, from cryptic crosswords to sudokus. You'll often find me outside of work sat working my way through a puzzle.
Outside of that, I enjoy listening to podcasts, getting outdoors and walking and lots of other fitness activities.
I also love cooking and having people around for dinner – especially for a Sunday roast. You can't beat it!
Q) What's one thing your colleagues wouldn't know about you?
I used to be a fitness instructor!
I taught body step and body conditioning at David Lloyd in Lincoln. It's going back quite a while now, but I did it for three or four years. I got massively into going to the gym, and then it progressed into the teaching and training side.
Quick-fire Questions
Q) You can invite any three people – dead or alive – to dinner. Who's at the table?
This is a hard question to answer on the spot!
I would invite Steve Coogan, Bear Grylls and Whitney Houston. Steve would make me laugh and I bet all three of them would have some amazing stories to tell.
Q) Favourite TV show?
It's got to be Friends. I still watch it now and it has truly withstood the test of time.
Q) What's the best place you've been on holiday?
I love the Brecon Beacons in Wales. The scenery is absolutely amazing, and there are so many activities you can do. We've done canoeing, horse riding and hiking in the past, and we've absolutely loved it there.
Q) Early bird or night owl?
I'm an early bird these days!
Q) If you could win an Olympic gold medal in any sport, what would it be?
I would say snowboarding. It would be awesome to be able to do all the flicks and tricks wouldn't it!?
Date
26 May, 2023
Author
Phil Winter
Share
If you would like to talk to a member of the department
Keep up to date
Sign up to receive email updates and regular legal news from Hamers.