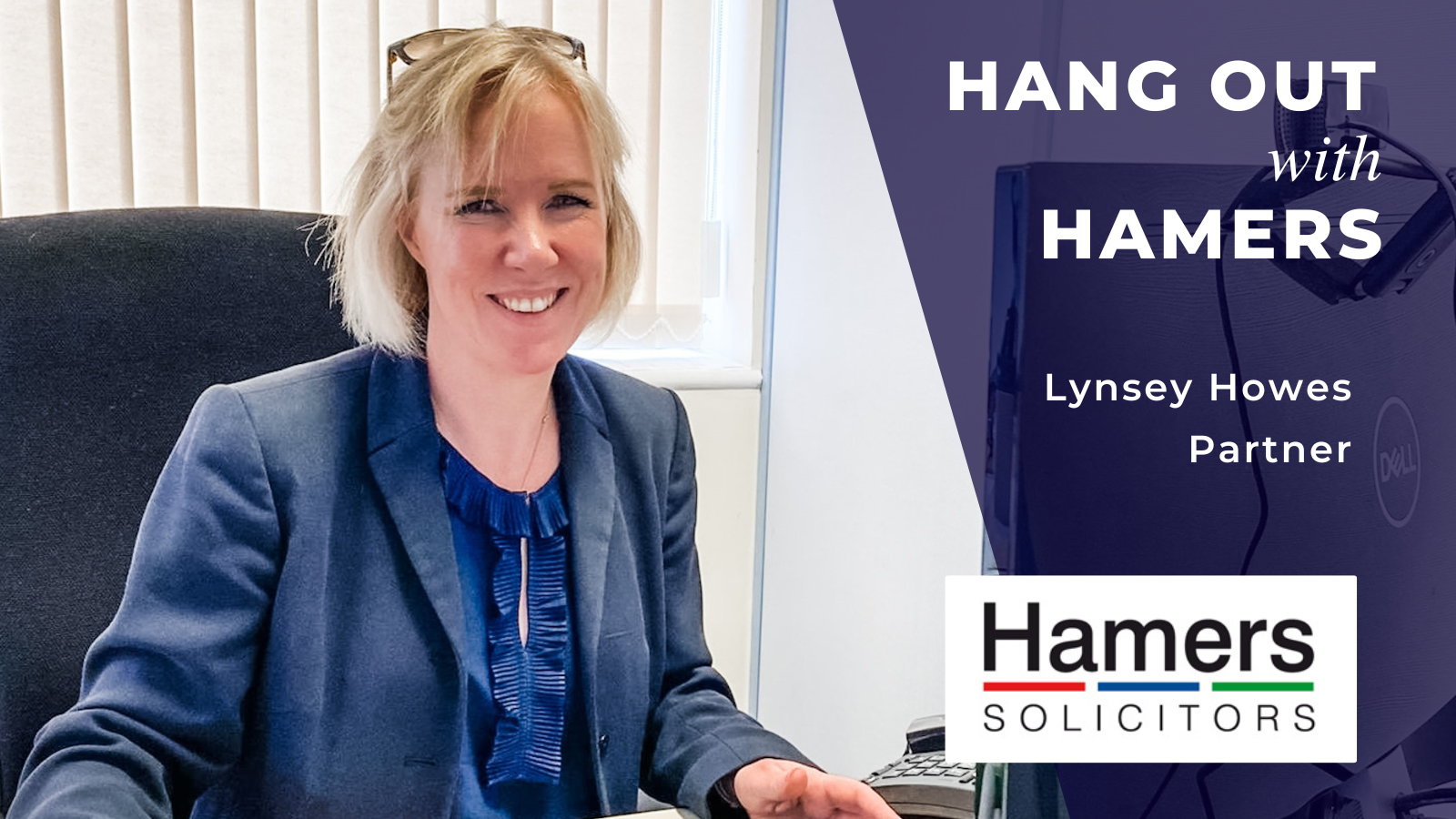 At Hamers, we're committed to providing friendly, local law. It's what we do best.
We strip away all the legal jargon and focus on providing you with a personal, hassle-free experience.
To do that, we've built a professional, friendly team of experts who are on hand to make sure our clients receive the best service possible.
To help you get to know them better, we've launched a new series – "Hang out with Hamers."
We're introducing you to members of the Hamers team, from all the departments of the firm.
First up is Lynsey Howes, Partner and employment law expert at Hamers.
Q) Tell us about your role at Hamers – what does a typical day look like?
"I attend employment tribunals on behalf of clients, so a lot of preparation and planning goes into those. It's about getting the best possible outcome for our clients, whatever the situation is.
"When I'm in the office, there's a lot of management work which needs carrying out. I'm responsible for HR for the entire firm, and at the moment we've got 28 members of the Hamers team, so that keeps me busy as you can imagine!
"Aside from that, it's the usual team meetings and making sure everything at the office is running smoothly."
Q) What do you enjoy most about your job?
"Nothing can beat the feeling of getting a really good result for a client at a tribunal, whether it's a company I'm representing or an individual who has made a claim. We're committed to our work and we get results for our clients.
"You feel a real sense of justice, and that the right outcome has been reached. When the odds are stacked against you and you still get the result, that's a particularly good feeling."
Q) Tell me one thing people wouldn't expect about working for a law firm.
"I think a lot of people still see law firms as being very corporate, and a little bit stuffy. What I would say is, for the most part, we actually have a lot of fun. We're a friendly bunch and that really comes across when we're meeting with clients.
"What we've found is clients want to feel comfortable, and want someone who they feel they can talk to. Quite often a client is coming to us because they've got a problem, and they want to feel like we're on their side."
Q) What do you like to do when you're not at work?
"I enjoy baking and cooking – especially at Christmas time. You'll find all sorts of festive treats if you visit our house at Christmas!
"Outside of that, making time to get outdoors – whether it's walking the dog or just getting out into the countryside – is really important to me."
Q) What's one thing your colleagues wouldn't know about you?
"I have been down the deepest gold mine in the world. It's in South Africa, in a place called Carletonville just outside Johannesburg.
"I had a family member who was working there at the time – it wasn't something anyone could do or visit as a tourist attraction.
"I travelled 1.2km under the surface of the Earth, and they were actually mining when I was down there. They pumped oxygen down into it so you could breathe down there. It was an extraordinary experience, and the heat was unbelievable."
Quick-fire Questions
Q) You can invite any three people – dead or alive – to dinner. Who's at the table?
"I would have Stephen Fry, Jane Austen and Sarina Wiegman, who has just coached the Lionesses to the football European Championships."
Q) Favourite TV show?
"I don't watch an awful lot of TV, but I do like a period drama, hence having Jane Austen at the dinner table as one of my guests!"
Q) What's the best place you've been on holiday?
"I really enjoyed visiting Reykjavik – Iceland is a beautiful place with so many things to see and do – and in this country I'm a Cornwall girl through and through. You can't beat it down there when the sun is shining."
Q) Early bird or night owl?
"I'm a night owl for sure – I am definitely not a morning person!"
Q) If you could win an Olympic gold medal in any sport, what would it be?
"Being good at gymnastics would be amazing – being able to do all the flips and spins. But I think I'll have to say pole vault, just to be able to say I could do it. It would definitely surprise a few people!"
Date
29 September, 2022
Author
Phil Winter
Share
If you would like to talk to a member of the department
Keep up to date
Sign up to receive email updates and regular legal news from Hamers.