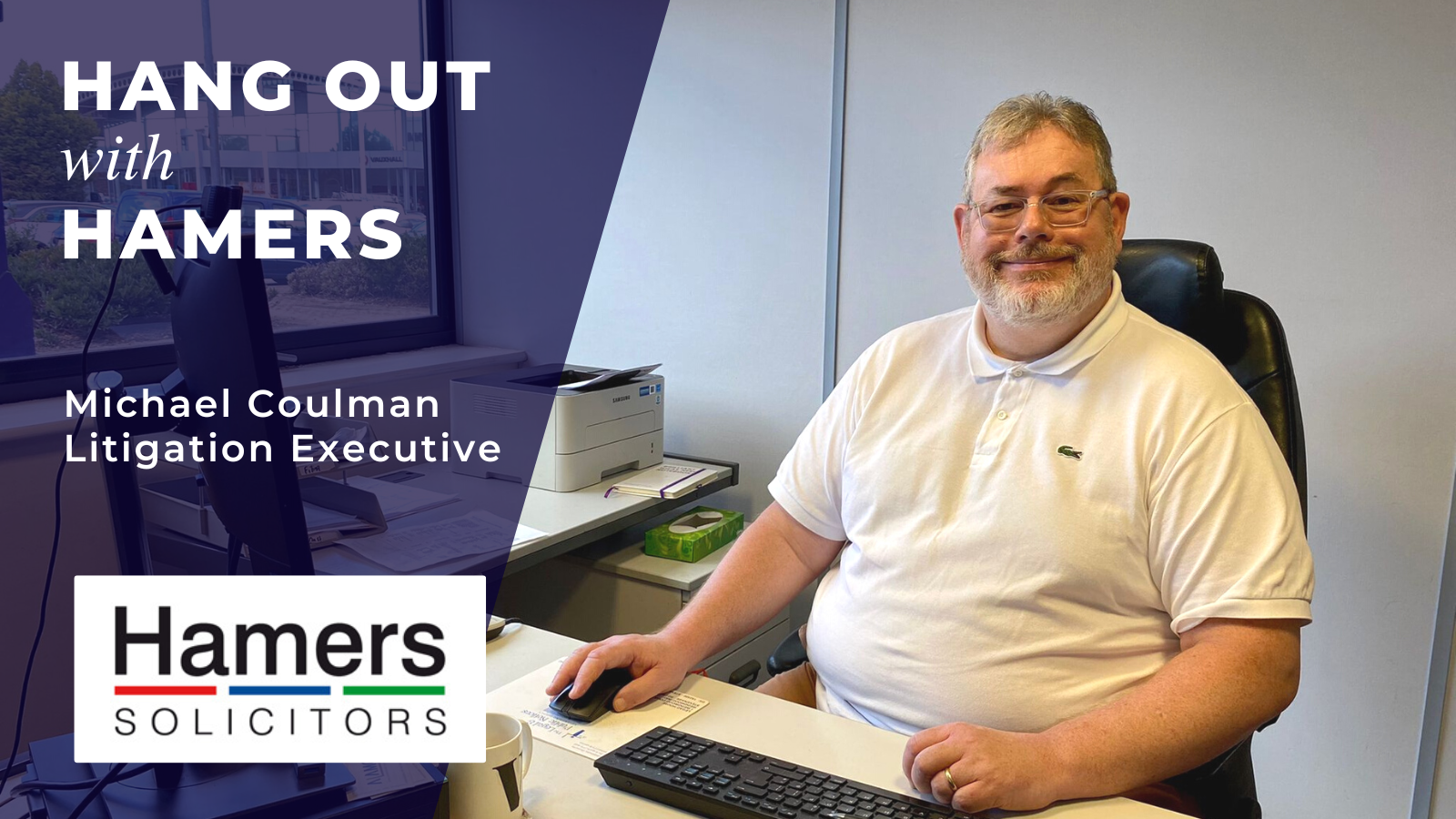 At Hamers, we're committed to providing friendly, local law. It's what we do best.
We strip away all the legal jargon and focus on providing you with a personal, hassle-free experience.
To do that, we've built a professional, friendly team of experts who are on hand to make sure our clients receive the best service possible.
To help you get to know them better, we launched our "Hang out with Hamers" series.
We're introducing you to members of the Hamers team, from all the departments of the firm.
Today we chat to Michael Coulman, Litigation Executive at Hamers.
Q) Tell us about your role at Hamers – what does a typical day look like?
"The areas of law I advise on and work in is quite broad. One of those areas is family work, dealing with divorces and helping unmarried couples who are separating and have assets which need discussing.
"I also work on contractual disputes, negligence issues, landlord and tenant disputes and other litigious work.
"I've been at Hamers for 30 years, and have never sat within one single area of law. I enjoy the variety and getting involved in all different types of work."
Q) What do you enjoy most about your job?
"I'd have to say it's the human interaction. That's what I enjoy doing, I like sitting down with people and building that rapport and understanding.
"Having a client come in with a complex matter, and really getting stuck into the cut and thrust of it all, that is why we do what we do."
Q) Tell me one thing people wouldn't expect about working for a law firm.
"We actually have a sense of humour! A lot of people would think that we don't, but certainly at Hamers we're a friendly bunch.
"I'd also say people would be surprised to hear we don't typically wear suits any more. The industry has changed and unless we're working in court, we're fairly relaxed and casually dressed in the office."
Q) What do you like to do when you're not at work?
"I enjoy spending time with friends, eating good food, and I'm also an avid reader of historical books and autobiographies of people I'm interested in.
"I've got a passion for music. For me, you can't top Pink Floyd. I suppose I'd say it's prog rock that I listen to mainly, but I'm always trying different artists and genres."
Q) What's one thing your colleagues wouldn't know about you?
"I think I've been here so long my colleagues probably know everything there is to know about me.
"I don't like heights, so you'll never catch me up a ladder!"
Quick-fire Questions
Q) You can invite any three people – dead or alive – to dinner. Who's at the table?
"It would be Mahatma Gandhi, Leon Trotsky and Syd Barrett. Now that's a conversation I'd like to listen in on."
Q) Favourite TV show?
"Hard to pick just one, but I'll go with Endeavour. I like a programme that makes you think and keeps you engaged."
Q) What's the best place you've been on holiday?
"I used to do a lot of scuba diving, and we had a few trips with friends to Cozumel off the coast of Mexico. It's famed for diving, and is the most amazing place to visit."
Q) Early bird or night owl?
"I'll go with early bird. I can't stay up late these days!"
Q) If you could win an Olympic gold medal in any sport, what would it be?
"Pole vaulting – I think it would surprise a few people if you saw me fling myself into the air!"
Date
13 December, 2022
Author
Phil Winter
Share
If you would like to talk to a member of the department
Keep up to date
Sign up to receive email updates and regular legal news from Hamers.