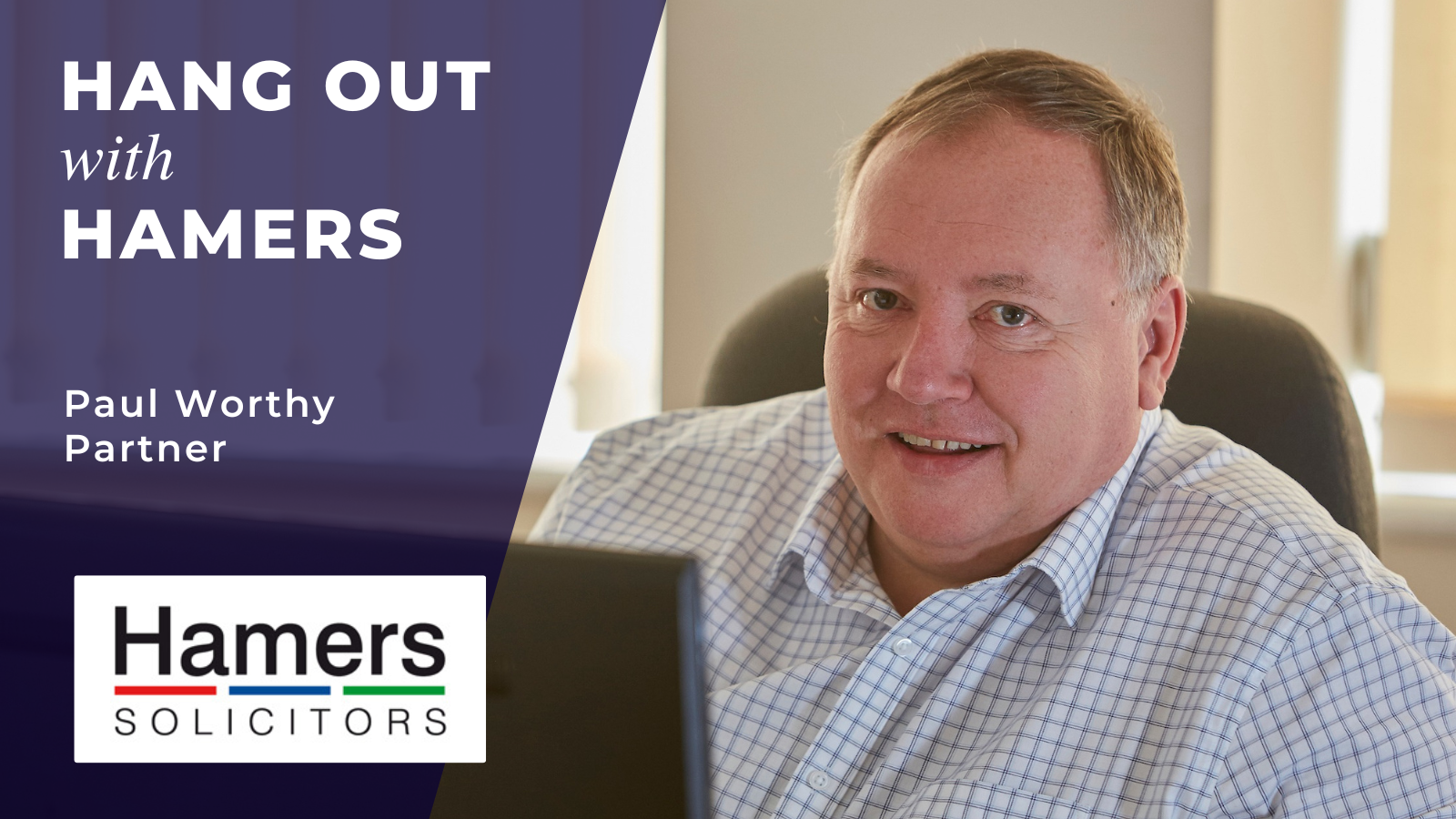 At Hamers, we're committed to providing friendly, local law. It's what we do best.
We strip away all the legal jargon and focus on providing you with a personal, hassle-free experience.
To do that, we've built a professional, friendly team of experts who are on hand to make sure our clients receive the best service possible.
To help you get to know them better, we launched our 'Hang out with Hamers' series.
We're introducing you to members of the Hamers team, from all the departments of the firm.
Today we catch up with Paul Worthy, Partner and commercial law expert at Hamers.
Q) Tell us about your role at Hamers – what does a typical day look like?
As a Partner at Hamers, I'm head of the firm's Commercial Law Department, which covers everything from share and asset sales and commercial lending to shareholder agreements.
I'm also the Compliance Officer for Finance and Administration (COFA), and am responsible for making sure Hamers is compliant with all the regulations and rules it must follow.
My day-to-day duties include reviewing and managing documents, meeting with clients and ensuring the firm is running smoothly.
Q) What do you enjoy most about your job?
I'd have to say meeting people. Everyone I deal with is working in business in some capacity.
I love visiting clients who manufacture products, and seeing how other businesses operate and deal with things. I know exactly how everything works at Hamers, so seeing how companies in different sectors to our own function is fascinating.
Q) Tell me one thing people wouldn't expect about working for a law firm.
Working at a law firm is not what TV shows and films would have you believe. We're all very polite and friendly and mostly normal!
There's a lot less drama than programmes like Suits depict. Every five minutes there's something different going on there – Hamers is much more settled I'm pleased to say!
Q) What do you like to do when you're not at work?
I could probably capture it in three words – travelling, eating and outdoors.
I love visiting new countries and cities, and over the years have been involved in some pretty bonkers challenges. I've done expeditions in the North Pole and trekking across the Himalayas.
I also enjoy good food and meals out, and spending time outdoors taking our dog Jack for walks.
Q) What's one thing your colleagues wouldn't know about you?
My sister attempted – and very nearly succeeded – to kill me.
When I was four years old, my sister decided I was annoying. She was probably right. She stuck two things so far up each nostril that I stopped breathing, went blue and very nearly died.
My sister would have been about six years old, she's a couple of years older than me. I'm happy to report there's been no such similar incidents since.
Quick-fire Questions
Q) You can invite any three people – dead or alive – to dinner. Who's at the table?
I would invite Sir Ernest Shackleton so I could hear about all his adventures, the food and travel writer A. A. Gill and Dame Helen Mirren.
Q) Favourite TV show?
It has to be Mortimer & Whitehouse: Gone Fishing. It's the fishing show that's not all about fishing.
It's just two blokes fishing, talking rubbish and having a laugh.
Q) What's the best place you've been on holiday?
This is a difficult one, because I'm fortunate to have travelled to some wonderful places.
For sunshine, it would be sailing around the Grenadines. For chilling out, it would be fly fishing anywhere, and for adventure, I once had to take shelter from a snowstorm in a tent about three degrees off the North Pole.
Despite being bitterly cold, that trip to the North Pole will stay with me for the rest of my life.
Q) Early bird or night owl?
Neither for me!
Q) If you could win an Olympic gold medal in any sport, what would it be?
I was quite a good swimmer in my youth so swimming would be my choice, although squeezing into a pair of Speedos could be interesting.
Date
12 January, 2023
Author
Phil Winter
Share
If you would like to talk to a member of the department
Keep up to date
Sign up to receive email updates and regular legal news from Hamers.