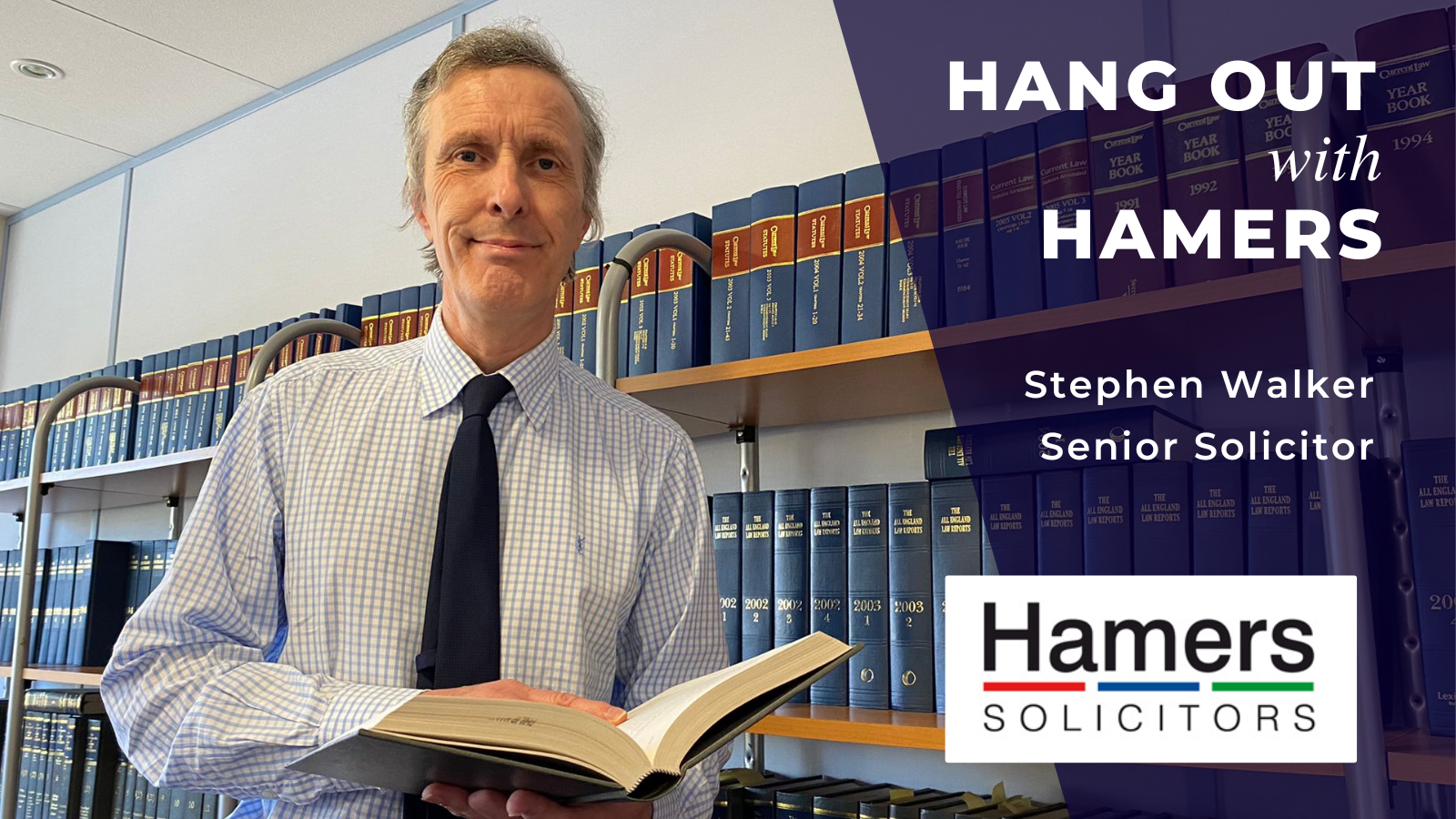 At Hamers, we're committed to providing friendly, local law. It's what we do best.
We strip away all the legal jargon and focus on providing you with a personal, hassle-free experience.
To do that, we've built a professional, friendly team of experts who are on hand to make sure our clients receive the best service possible.
To help you get to know them better, we recently launched a new series. It's called "Hang out with Hamers."
Over the coming weeks and months, we're going to introduce you to members of the Hamers team, from all the departments of the firm.
In this edition we chat to Stephen Walker, a Senior Solicitor who specialises in wills and probate work.
Q) Tell us about your role at Hamers – what does a typical day look like?
"I mainly deal with deceased persons' estates. If someone dies, I deal with the administration of their estate.
"I advise people on making wills, look at their assets and whether they have to pay any inheritance tax.
"I also do some work in the Court of Protection, for people who have lost mental capacity. My background is in conveyancing, and I've been working in law for 40 years – the past two years have been with Hamers."
Q) What do you enjoy most about your job?
"It's the unexpected things that I enjoy working on the most – when a client wants something that's a little bit different to the usual.
"Sometimes it's a client who has got assets which need dealing with which are out of the ordinary. I remember working with one client who had a large collection of vintage motorbikes at their home, and another with a poet who had unpublished pieces of work that needed sorting.
"It's those sort of jobs which are interesting, and make you think more."
Q) Tell me one thing people wouldn't expect about working for a law firm.
"I think a lot of people still imagine law to be quite a traditional, old-fashioned industry with pen and paper and lots of folders. There's still a bit of that, but it is amazing how much of our work we can do digitally now.
"A lot of clients do still like to come in, and that's important when you're dealing with sensitive and very personal matters. But we can also do a lot of our work on Microsoft Teams, especially internal meetings."
Q) What do you like to do when you're not at work?
"I enjoy making things. I do a lot of DIY at home, I make a bit of furniture and I tinker with cars too. Generally I'm good when it comes to mechanical things.
"I also get stuck into various garden projects. Basically anything that is using my hands, and is totally different to what I normally do at work!"
Q) What's one thing your colleagues wouldn't know about you?
"I'm a qualified bricklayer! I completed a two-year part-time course. It all started when we moved house and there was an awful lot of work to do in the garden. I did a part-time course and have got a certificate to prove it."
Quick-fire Questions
Q) You can invite any three people – dead or alive – to dinner. Who's at the table?
"I would say Sterling Moss, the astronomer Carl Sagan and Henry VIII due to my interest in history. That would be a fascinating dinner table conversation!"
Q) Favourite TV show?
"I do like Wheeler Dealers – that comes from my interest in cars and mechanics."
Q) What's the best place you've been on holiday?
"I'd have to say Belgium. We visited the site of Waterloo, and also the Spa racing circuit, which is an incredible place. The scenery is stunning."
Q) Early bird or night owl?
"Definitely a night owl. I rarely go to bed before midnight, and on a weekend an early start for me is 8am."
Q) If you could win an Olympic gold medal in any sport, what would it be?
"I'm not big on my sports, and I don't think it's an Olympic sport, but I'll say ten-pin bowling. I used to do it a lot as a student, so it would take me back to those earlier days!"
Date
14 October, 2022
Author
Phil Winter
Share
If you would like to talk to a member of the department
Keep up to date
Sign up to receive email updates and regular legal news from Hamers.