Compensation increases and how to handle positive Covid tests in work
Our employment law bulletin asks if agency workers have the right to apply directly for jobs with the hirer? Plus a rise in compensation after dismissal, and how to move forward after the change in Covid isolation rules.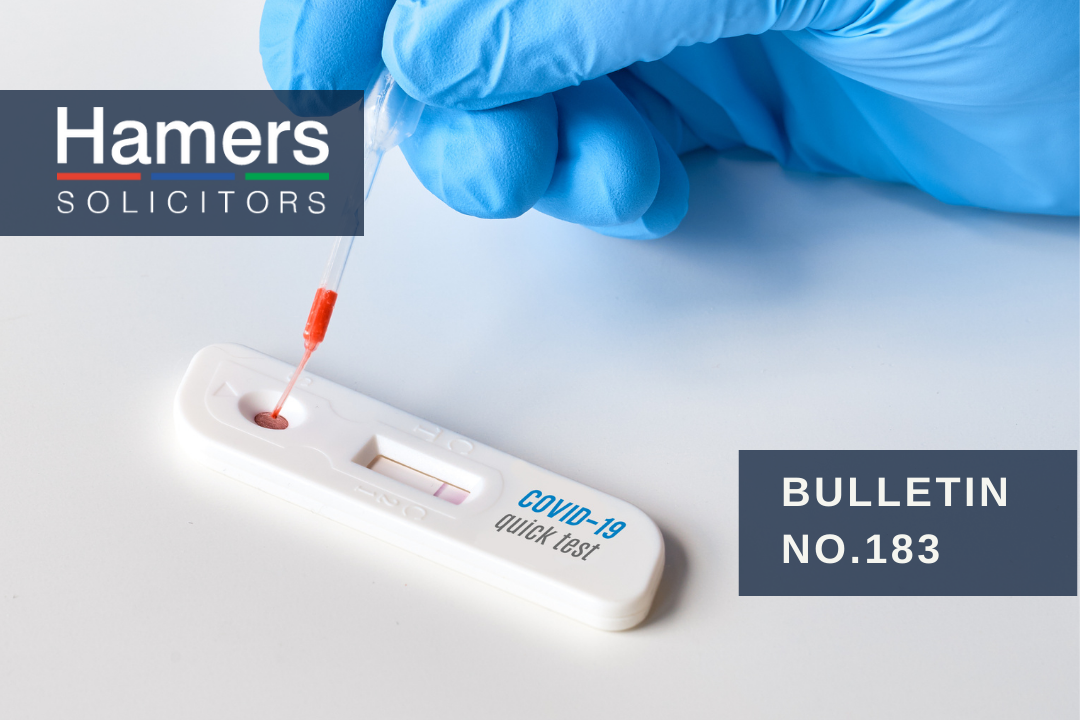 In this edition of the Hamers employment law newsletter, our expert Lynsey Howes looks into holiday pay, compensation increases, removal of confidential information and agency workers.
Compensation increases from April 6 2022
Dismissal occurring after April 6 2022, in line with the new tax year, will have the following payments allocated to them:
• A week's pay will raise from £544 to £571 – this figure to be used in calculations for redundancy pay and basic award;
• The maximum compensatory award increases from £89,493 to £93,878.
These provisions are implemented under the Employment Rights (Increase of Limits) Order 2022.
Agency workers: Kocur v Angard Staffing Solution Limited
The Court of Appeal in the case of Kocur v Angard Staffing Solution Limited, was asked to decide whether the Agency Workers Regulations afforded agency workers the right to apply directly for jobs with the hirer?
Angard Staffing Solutions Limited is a wholly owned subsidiary of Royal Mail. Angard only supplies agency workers to Royal Mail. Royal Mail had some vacancies. These vacancies were open to Royal Mail employees to apply for, including those already in permanent positions and those in more precarious roles. Both categories of Royal Mail employees were permitted to apply for these roles before they were opened up to agency workers.
The Claimant argued that the right under the Agency Workers Regulations to be given notice of permanent opportunities also extended to the right to apply for the role. Lord Justice Green disagreed.
Lord Justice Green commented that nothing in the mind of the EU Commission, Council or Parliament hinted at a right to apply for vacancies. The directive did not envisage that temporary workers would be the same in all regards as permanent workers. There are still differences.
This decision makes clear that companies can still prioritise internal applicants, rather than extending the invitation to apply for roles to agency workers, even though they may be required to notify them of the vacancies.
Confidential information: Nissan v Passi
The High Court in Nissan v Passi was asked to consider whether a whistle-blower was permitted to take confidential documents in order to obtain legal advice about his complaint.
The Claimant had removed from his employer more than 100 confidential documents. He refused to return or delete them. His reason was that the documents had been taken so that he could obtain legal advice and he did not trust that his employer would provide proper disclosure in any proceedings if he did not retain them.
The High Court did not accept these arguments and in an interim injunction ordered that the papers be returned to the employer. The High Court asserted that the Claimant had no proprietary rights to the documents he had taken and that they must be returned.
Holiday pay: Pimlico Plumbers
The holiday pay claims of Pimlico Plumbers just keep growing. In a decision of the Court of Appeal, holidays were deemed to carry over where the leave had been taken but had not been paid.
Pimlico Plumbers Limited had originally described its plumbers as in business on their own account, therefore self‐employed. Mr Smith had successfully argued that he was a worker and therefore entitled to holiday pay. This decision was affirmed by the Supreme Court.
As a consequence of the decision Mr Smith sought to be paid for the four weeks' annual leave carried over for all of the years that he had not been paid. He failed in this argument at the Tribunal and EAT, who stated that the decision in King v Sash Windows only applied to leave which had never been taken, not as in Mr Smith's case leave which had been taken but had not been paid.
The Court of Appeal overturned those decisions. In her lead judgment, Lady Justice Simler considered the Working Time Directive and found that it established clearly the right to paid leave. Lady Justice Simler was clear that taking leave where pay was refused was not exercising the right envisaged by the directive to paid leave. As the right had not been exercised, those periods of leave continued to accrue.
Lady Justice Simler stated that leave could only be lost at the end of the leave year, where the worker was given the opportunity to take paid leave, had been encouraged to take it and had been informed of the consequences of not taking it – i.e. that the leave would be lost. In the case of Mr Smith, there was never any suggestion that the leave would be paid, in fact the opposite, that it would not be. As a consequence, Mr Smith's rights did not lapse, but accumulated until the contract is terminated.
Ensuring holidays are paid and paid correctly at the right rates is essential. If any questions arise from this article please do not hesitate to get in touch.
Covid positive tests
The requirement to self‐isolate in the event of a positive Covid test has now come to an end. As the legal requirement ends, what now for those who test positive? What should employers do?
There are no easy answers, as an employee does not have to report their positive test to their employer, so how would you know? An employee can simply state that they have a cold. Or they may be symptomless.
Employers who attempt to put in place incentives, such as paying people to stay at home following a positive test result, need to be careful to ensure policies are not ad hoc and not discriminatory. What evidence will you need before access is given to such a scheme? Do you even want to pay more for one illness, when many illnesses are contagious? What about someone who is off with flu or diarrhoea and sickness?
The message is be clear, be consistent and be aware of the potential for inadvertent abuse of any scheme. Ensure the policy is robust, perhaps time limited and reviewed often. Whatever you decide, these are not issues to be entered into lightly.
And finally…
We hope that all of our readership finds this newsletter informative. If any questions arise from it then please do not hesitate to ask.
Bye for now. nsey and the team.
To contact Lynsey or join the employment law mailing list, please email LHowes@hamers.com
• Grievances and vexatious behaviour – employment law update
Date
02 March, 2022
Author
Lynsey Howes
Share
If you would like to talk to a member of the department
Keep up to date
Sign up to receive email updates and regular legal news from Hamers.